These are the 100 best songs of 2006 in the UK. This list includes only the very best songs of the year 2006 in the UK. These are songs like "Sexyback" by Justin Timberlake, "Smile" by Lily Allen, and "Ain't No Other Man" by Christina Aguilera but also songs by The Pussycat Dolls and Kelly Clarkson.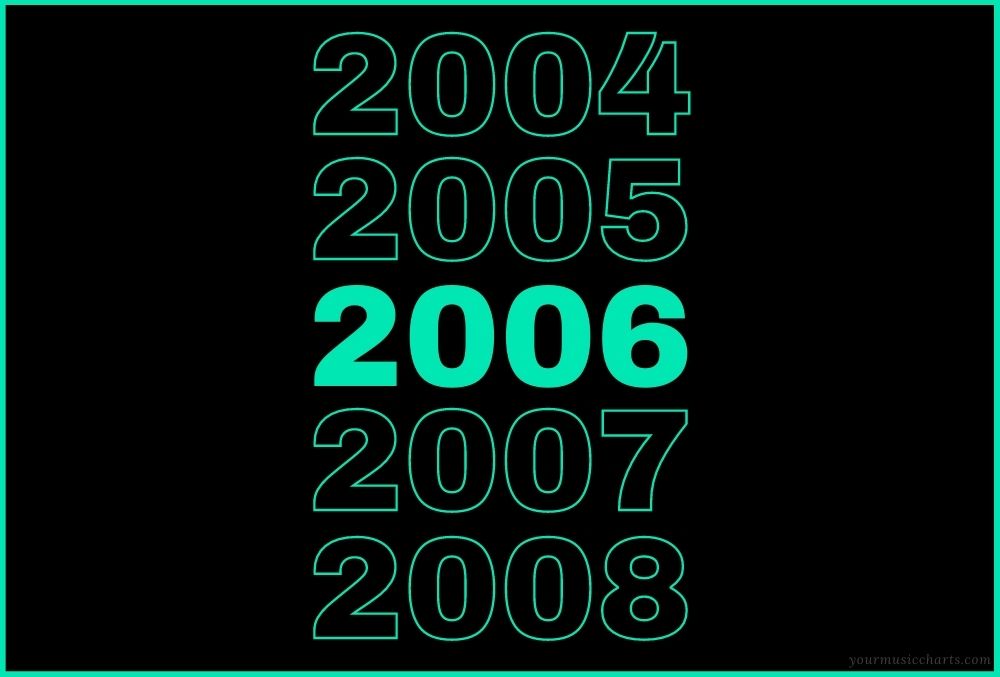 The top three songs on this list include 'I Don't Feel Like Dancin" by Scissor Sisters, 'Crazy' by Gnarls Barkley, and the absolute number one song of this top 100 best songs from the UK is 'Hips Don't Lie' by Shakira featuring Wyclef Jean!
Jump to:
#1 Songs 2006 'Hips Don't Lie' by Shakira ft. Wyclef Jean
Check out the Year-End playlist of the 100 best songs of the UK in the year 2006 below or go directly to the Spotify playlist or follow us on Spotify.
Of course, it is also possible to save or download the playlist.
Interested in even more popular music from this decade?
List of 100 Best songs of 2006
| # | Title - Artist |
| --- | --- |
| 1 | Hips Don't Lie - Shakira featuring Wyclef Jean |
| 2 | Crazy - Gnarls Barkley |
| 3 | I Don't Feel Like Dancin' - Scissor Sisters |
| 4 | I Wish I Was A Punk Rocker (With Flowers In My Hair) - Sandi Thom |
| 5 | Nasty Girl - The Notorious BIG featuring Diddy, Nelly, Jagged Edge & Avery Storm |
| 6 | From Paris To Berlin - Infernal |
| 7 | No Tomorrow - Orson |
| 8 | Sexyback - Justin Timberlake |
| 9 | Maneater - Nelly Furtado |
| 10 | That's My Goal - Shayne Ward |
| 11 | Smile - Lily Allen |
| 12 | Patience - Take That |
| 13 | America - Razorlight |
| 14 | Everytime We Touch - Cascada |
| 15 | Thunder In My Heart Again - Meck featuring Leo Sayer |
| 16 | Naive - The Kooks |
| 17 | Put Your Records On - Corinne Bailey Rae |
| 18 | SOS - Rihanna |
| 19 | JCB Song - Nizlopi |
| 20 | Welcome To The Black Parade - My Chemical Romance |
| 21 | Unfaithful - Rihanna |
| 22 | Chasing Cars - Snow Patrol |
| 23 | Put Your Hands Up For Detroit - Fedde Le Grande |
| 24 | So Sick - Ne-Yo |
| 25 | Smack That - Akon |
| 26 | Pump It - The Black Eyed Peas |
| 27 | It's Chico Time - Chico |
| 28 | Beep - The Pussycat Dolls featuring Will I Am |
| 29 | Voodoo Child - Rogue Traders |
| 30 | She Moves In Her Own Way - The Kooks |
| 31 | Who Knew - Pink |
| 32 | Ain't No Other Man - Christina Aguilera |
| 33 | Irreplaceable - Beyonce |
| 34 | Hung Up - Madonna |
| 35 | Ridin' - Chamillionaire featuring Krayzie Bone |
| 36 | Boys Will Be Boys - The Ordinary Boys |
| 37 | One - Mary J Blige & U2 |
| 38 | Last Request - Paolo Nutini |
| 39 | No Promises - Shayne Ward |
| 40 | Sorry - Madonna |
| 41 | Promiscuous - Nelly Furtado featuring Timbaland |
| 42 | When You Were Young - The Killers |
| 43 | Run It! - Chris Brown featuring Juelz Santana |
| 44 | Rock This Party (Everybody Dance Now) - Bob Sinclar & Cutee B |
| 45 | Something Kinda Ooooh - Girls Aloud |
| 46 | When The Sun Goes Down - Arctic Monkeys |
| 47 | Control Myself - LL Cool J featuring Jennifer Lopez & Jermaine Dupri |
| 48 | You Give Me Something - James Morrison |
| 49 | Somebody's Watching Me - Beatfreakz |
| 50 | Love Don't Let Me Go (Walking Away) - David Guetta vs The Egg |
| 51 | In The Morning - Razorlight |
| 52 | Dani California - Red Hot Chili Peppers |
| 53 | Check On It - Beyonce featuring Slim Thug |
| 54 | Deja Vu - Beyonce featuring Jay-Z |
| 55 | Monster - The Automatic |
| 56 | All Time Love - Will Young |
| 57 | Say Say Say (Waiting 4 U) - Hi-Tack |
| 58 | My Love - Justin Timberlake featuring TI |
| 59 | Heartbeats - Jose Gonzalez |
| 60 | Fill My Little World - The Feeling |
| 61 | You're All I Have - Snow Patrol |
| 62 | Yeah Yeah - Bodyrox featuring Luciana |
| 63 | Me And U - Cassie |
| 64 | Buttons - The Pussycat Dolls featuring Snoop Dogg |
| 65 | The Rose - Westlife |
| 66 | Because Of You - Kelly Clarkson |
| 67 | Sugar, We're Goin' Down - Fall Out Boy |
| 68 | Never Be Lonely - The Feeling |
| 69 | Checkin' It Out - Lil' Chris |
| 70 | Goodbye My Lover - James Blunt |
| 71 | You Got The Love - The Source featuring Candi Staton |
| 72 | Nature's Law - Embrace |
| 73 | Valerie - The Zutons |
| 74 | I'll Be Ready - Sunblock |
| 75 | U And Ur Hand - Pink |
| 76 | Sexy Love - Ne-Yo |
| 77 | Come To Me - P Diddy featuring Nicole Scherzinger |
| 78 | Stupid Girls - Pink |
| 79 | Boogie 2nite - Booty Luv |
| 80 | Sewn - The Feeling |
| 81 | My Humps - The Black Eyed Peas |
| 82 | Is It Any Wonder? - Keane |
| 83 | George Best - A Tribute - Brian Kennedy & Peter Corry |
| 84 | Rehab - Amy Winehouse |
| 85 | Touch The Sky - Kanye West featuring Lupe Fiasco |
| 86 | Empire - Kasabian |
| 87 | Faster Kill Pussycat - Paul Oakenfold featuring Brittany Murphy |
| 88 | Chelsea Dagger - Fratellis |
| 89 | Rock Steady - All Saints |
| 90 | Stoned In Love - Chicane featuring Tom Jones |
| 91 | Steady As She Goes - The Raconteurs |
| 92 | Don't Stop Me Now / Please Please - McFly |
| 93 | StickWitU - The Pussycat Dolls |
| 94 | Supermassive Black Hole - Muse |
| 95 | Red Dress - Sugababes |
| 96 | Ugly - Sugababes |
| 97 | My My My - Armand Van Helden featuring Tara McDonald |
| 98 | You Spin Me Round - Dead Or Alive |
| 99 | Breaking Free - Cast Of High School Musical |
| 100 | Gold Digger - Kanye West featuring Jamie Foxx |
Spotify Playlist
Follow us directly on Spotify by using this link: YourMusicCharts
More 2000s music facts