This annual music list contains the 100 most popular songs in the United Kingdom from the year 1971. You probably still remember songs like 'My Way' by 'Frank Sinatra', or songs from Diana Ross or Olivia Newton-John, and many more!
Check the list or go directly to the playlist via this link: Go directly to the playlist!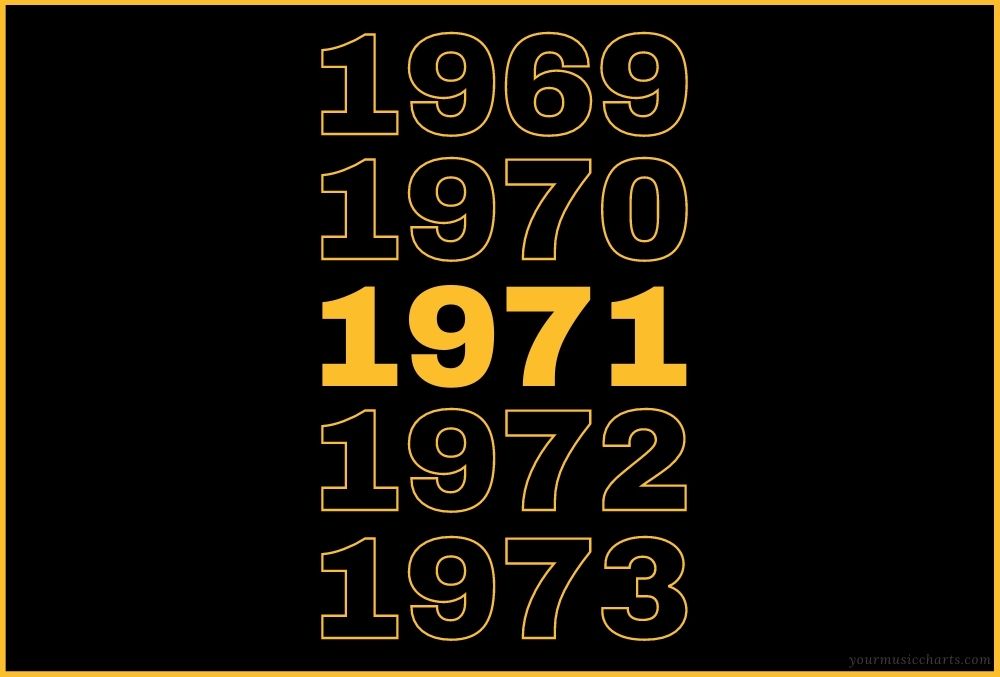 Interested in even more popular music from this decade? Check out 70's playlists!
Top 100 songs 1971 from the UK
| # | Title - Artist |
| --- | --- |
| 1 | Knock Three Times - Dawn |
| 2 | Maggie May / Reason To Believe - Rod Stewart |
| 3 | Hot Love - T Rex |
| 4 | My Sweet Lord - George Harrison |
| 5 | Grandad - Clive Dunn |
| 6 | Hey Girl Don't Bother Me - The Tams |
| 7 | Pushbike Song - The Mixtures |
| 8 | I'm Still Waiting - Diana Ross |
| 9 | Never Ending Song Of Love - The New Seekers |
| 10 | Amazing Grace - Judy Collins |
| 11 | Get It On - T Rex |
| 12 | Coz I Luv You - Slade |
| 13 | Double Barrel - Dave & Ansil Collins |
| 14 | Rose Garden - Lynn Anderson |
| 15 | Ernie (The Fastest Milkman In The West) - Benny Hill |
| 16 | Did You Ever - Nancy Sinatra & Lee Hazlewood |
| 17 | Baby Jump - Mungo Jerry |
| 18 | Co-Co - The Sweet |
| 19 | It's Impossible - Perry Como |
| 20 | Tweedle Dee Tweedle Dum - Middle Of The Road |
| 21 | Brown Sugar / Bitch / Let It Rock - The Rolling Stones |
| 22 | My Way - Frank Sinatra |
| 23 | Jeepster - T Rex |
| 24 | Bridget The Midget (The Queen Of The Blues) - Ray Stevens |
| 25 | I Did What I Did For Maria - Tony Christie |
| 26 | Another Day - Paul McCartney |
| 27 | Indiana Wants Me - R Dean Taylor |
| 28 | For All We Know - Shirley Bassey |
| 29 | The Witch Queen Of New Orleans - Redbone |
| 30 | Banner Man - Blue Mink |
| 31 | Mozart Symphony No 40 - Waldo De Los Rios |
| 32 | Resurrection Shuffle - Ashton, Gardner & Dyke |
| 33 | Till - Tom Jones |
| 34 | Don't Let It Die - Hurricane Smith |
| 35 | You've Got A Friend - James Taylor |
| 36 | I Hear You Knocking - Dave Edmunds |
| 37 | Stoned Love - The Supremes |
| 38 | Ride A White Swan - T Rex |
| 39 | Tom-Tom Turnaround - New World |
| 40 | Me And You And A Dog Named Boo - Lobo |
| 41 | (Where Do I Begin) Love Story - Andy Williams |
| 42 | I'm Gonna Run Away From You - Tami Lynn |
| 43 | Soldier Blue - Buffy Sainte-Marie |
| 44 | Heaven Must Have Sent You - The Elgins |
| 45 | What Are You Doing Sunday - Dawn |
| 46 | In My Own Time - Family |
| 47 | Devil's Answer - Atomic Rooster |
| 48 | He's Gonna Step On You Again - John Kongos |
| 49 | I'll Be There - The Jackson Five |
| 50 | Simple Game - The Four Tops |
| 51 | It Don't Come Easy - Ringo Starr |
| 52 | Gypsys Tramps And Thieves - Cher |
| 53 | Freedom Come, Freedom Go - The Fortunes |
| 54 | Banks Of The Ohio - Olivia Newton-John |
| 55 | Apeman - The Kinks |
| 56 | Just My Imagination - The Temptations |
| 57 | When I'm Dead And Gone - McGuinness Flint |
| 58 | Walkin' - CCS |
| 59 | Tap Turns On The Water - CCS |
| 60 | Johnny Reggae - The Piglets |
| 61 | Lady Rose - Mungo Jerry |
| 62 | No Matter What - Badfinger |
| 63 | I Am... I Said - Neil Diamond |
| 64 | Black And White - Greyhound |
| 65 | My Brother Jake - Free |
| 66 | Leap Up And Down (Wave Your Knickers In The Air) - St Cecilia |
| 67 | Tired Of Being Alone - Al Green |
| 68 | Monkey Spanner - Dave & Ansil Collins |
| 69 | Nathan Jones - The Supremes |
| 70 | Sultana - Titanic |
| 71 | I Will Return - Springwater |
| 72 | Remember Me - Diana Ross |
| 73 | Jack In The Box - Clodagh Rodgers |
| 74 | Jig-A-Jig - East Of Eden |
| 75 | Let Your Yeah Be Yeah - The Pioneers |
| 76 | Malt And Barley Blues - McGuinness Flint |
| 77 | Look Around - Vince Hill |
| 78 | Sweet Caroline - Neil Diamond |
| 79 | Back Street Luv - Curved Air |
| 80 | Cousin Norman - Marmalade |
| 81 | There Goes My Everything - Elvis Presley |
| 82 | Tokoloshe Man - John Kongos |
| 83 | The Night They Drove Old Dixie Down - Joan Baez |
| 84 | If Not For You - Olivia Newton-John |
| 85 | Rupert - Jackie Lee |
| 86 | It's Too Late / I Feel The Earth Move - Carole King |
| 87 | Your Song - Elton John |
| 88 | Cracklin' Rosie - Neil Diamond |
| 89 | Run Baby Run - The Newbeats |
| 90 | Won't Get Fooled Again - The Who |
| 91 | I Believe (In Love) - Hot Chocolate |
| 92 | Funny Funny - The Sweet |
| 93 | It's Only Make Believe - Glen Campbell |
| 94 | Strange Kind Of Woman - Deep Purple |
| 95 | Candida - Dawn |
| 96 | Something Tells Me (Something Is Gonna Happen Tonight) - Cilla Black |
| 97 | Power To The People - John Lennon & The Plastic Ono Band |
| 98 | Sugar Sugar - Sakkarin |
| 99 | Keep On Dancing - Bay City Rollers |
| 100 | Sweet Inspiration - Johnny Johnson & The Bandwagon |
Year-End Chart 1971 – UK
Follow us directly on Spotify by using this link: YourMusicCharts